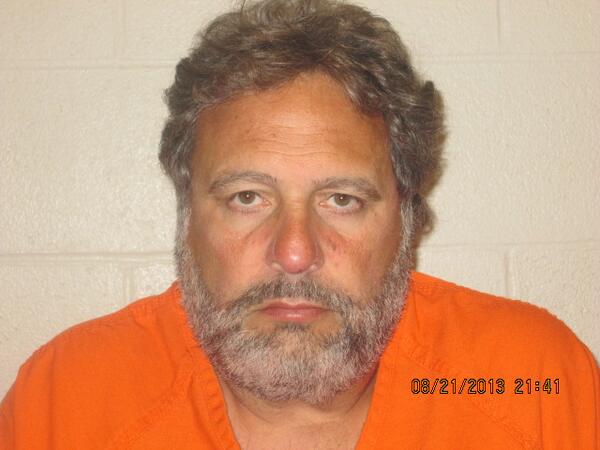 What's Jimmy Dimora doing in the Cuyahoga County jail? He was moved there from federal prison last night, and in his jail booking photo, he doesn't look too happy about it.
Journalists' Twitter feeds lit up with the news this afternoon. Several reporters said Dimora will go before a county grand jury. Why?
"Prosecutors apparently want to question Dimora about lawyer Anthony Calabrese/Ameritrust deal,"
WKYC's Tom Meyer
tweeted.
I think Meyer's right. County prosecutor Tim McGinty is trying to get to the bottom of the last big unanswered question in the five-year-old county corruption scandal: Was the county's 2005 purchase of the Ameritrust Tower corrupted in some way?
This January, county executive
Ed FitzGerald told me he'd asked McGinty to investigate
the Ameritrust purchase, especially corruption defendant Anthony Calabrese III's role in it. McGinty did just that.
The prosecutor hit Calabrese with a six-count indictment last month, including conspiracy and corruption charges that include the 2005 Ameritrust deal.
The indictment charges that Calabrese -- then an attorney for The Staubach Co., a real estate consultant for the county on the Ameritrust deal -- got Dimora crony J. Kevin Kelley to provide him with "non-public information ... from Dimora relating to the then-forthcoming purchase of Ameritrust by Cuyahoga County." After the sale went through, McGinty alleges, Calabrese arranged for an unnamed businessman to pay Kelley a $70,000 bribe for his help.
Now, the reports that Dimora will be put before a grand jury to testify suggest that McGinty is considering further charges against someone. Where's he going with this?
Dimora is named as an unindicted co-conspirator in the Calabrese indictment. It mentions him in connection with the Ameritrust sale and Dimora's famed trip to Vegas. Why rehash Vegas? Because conspiracy charges can reach back beyond Ohio's six-year statute of limitations on bribery. To charge anyone with crimes related to the 2005 Ameritrust deal, McGinty needs to prove that it was part of a larger conspiracy that was still active six years ago.
Federal investigators also looked into Calabrese's ties to the Ameritrust deal, and they
charged Calabrese with witness tampering
in relation to the $70,000 payment to Kelley -- but they dropped that charge when Calabrese agreed to plead guilty to 18 other crimes. Significantly, Calabrese's federal plea deal included no agreement to cooperate with the feds. Does that mean he still has secrets to keep?
==
To read more coverage of the 2005 Ameritrust purchase, follow these links:
"FitzGerald: Calabrese holds key to 2005 Ameritrust inquiry,"
Jan. 30, 2013
"FBI, IRS investigated Dimora, Kelley, payment to Staubach Co. over Ameritrust Tower purchase,"
June 7, 2012