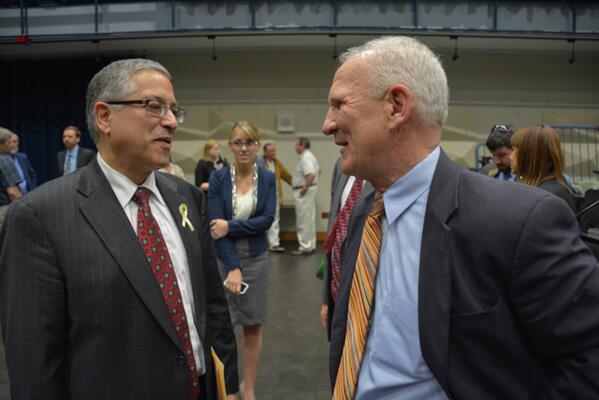 Nick Castele/ideastream
Armond Budish and Jack Schron shared a stage last night and agreed on almost every question they were asked. In fact, the Democratic and Republican candidates for Cuyahoga County executive found so much common ground that I left their first joint candidates' forum wondering what this election's going to be about.
Instead of contrasts or any big ideas, the 100 or so voters at the county library's Parma-Snow branch got a sense of Schron as the inside guy, the county councilman who knows the issues and wants a promotion to the top job, and Budish, the outsider, who's studying up and can talk about the big picture a little more clearly.
For instance, Schron said he'd be open to talking with Cleveland Mayor Frank Jackson about the city closing Burke Lakefront Airport. But Budish said so more clearly, without ifs attached, so
he got the credit from
The Plain Dealer.
The two candidates agree on so much, we can see where the newly powerful county government is and isn't going, no matter who wins. Budish and Schron agreed on:
- Building a new MetroHealth hospital.
- Building the convention center hotel.
- Talking with Cleveland about closing Burke.
- Not encouraging suburbs to merge, but helping them share services instead.
- Courting the 2016 Republican and Democratic national conventions.
- Extending the cigarette tax to fund arts and culture in 2016.
- Helping the inner-ring suburbs with economic development.
- Resolving the disputes between county judges and the executive.
All that happy unity may pay off if Budish wins in November. Schron has two more years on the county council, so they'd have to work together. Still, is there really no difference between how Democrats and Republicans would run the county?
I think there is, and hopefully we'll hear about it in the five months before the election. We need to hear more about how Budish and Schron want to encourage job growth, promote education through scholarships, and better provide for the needy – the key goals in the new county charter.
Last night, Budish said he's a "strong supporter" of current executive Ed FitzGerald's plan to float $50 million in bonds to demolish abandoned houses. Schron didn't get asked about it. Would Schron battle blight as aggressively as Budish?
Schron says he wants to guarantee the county inspector general's independence by making the office a part of the charter.
If the county council had put it on the ballot
last year, "I'm confident the community would've passed it," he said. Would Budish advocate for a charter-protected inspector general?
Budish said he was "frankly surprised that we come up with a new charter, and there's nothing in it about expenditure limits" for political campaign donors. Unlike other campaign finance laws, limits on what a single donor can give a single candidate are still on solid legal ground. But
Schron voted against putting that on the ballot last year
. Could he explain, at one of these forums, why one rich donor should be able to singlehandedly fund a candidate's entire campaign?
Schron wants the county to aggressively recruit out-of-state companies to relocate or expand in Cuyahoga County. Would Budish do that if elected? Budish wants to create a local venture capital fund and a talent recruitment initiative. Would Schron support those ideas?
Hopefully, the two candidates, who got along so well last night, will meet again often in the next five months. And hopefully, they'll challenge each other to talk about big ideas. Consensus is great. Complacency isn't.