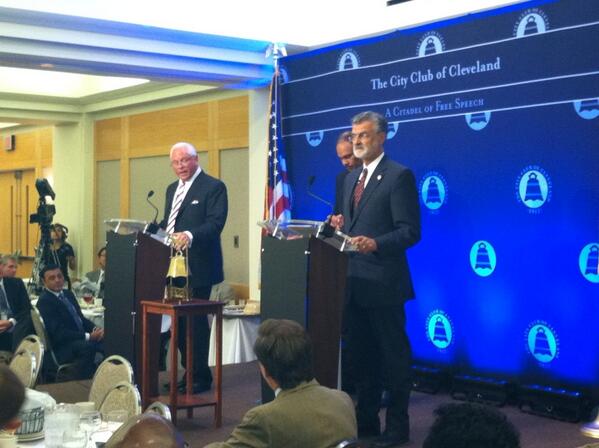 Frank Jackson saved his toughest lines for the end. With an anger he's rarely shown since his 2005 campaign, he ripped into challenger Ken Lanci's reason for running for mayor at today's City Club debate.
In his closing statement, Jackson teed off on Lanci's oft-stated motivation, that the millionaire businessman decided to serve others after a near-fatal heart attack.
"When you face these challenges… from an ivory tower and just decide to move back to Cleveland because you believe you have a burden, you're not going to get the result you need," Jackson said.
For an hour today, Jackson and Lanci sparred on crime and education, the big two issues of any mayor's race. Lanci aimed a blunderbuss at Jackson, calling the mayor a failure at both. He quoted Jackson lines from his 2005 campaign against Jane Campbell.
"We are worse off than we were four years ago," Lanci said, echoing Jackson. "If I don't restore hope to the ailing city within 200 days of taking office, I will consider myself a failure."
In his opening statement, Jackson responded calmly with figures about City Hall spending in city neighborhoods. But by the end, he was worked up, in full populist mode.
Something about Lanci really gets under Jackson's skin. That a rich businessman would move in from the suburbs to run against him rankles him. It gets him going on a favorite point, about "ivory tower" folks who don't live working-class struggles. ("Ivory tower" usually means academia -- Jackson is really saying Lanci is acting out of noblesse oblige.)
"It is a contradiction of terms to empower those you intend to oppress," Jackson said in his closing. "When someone is looking to feel good because they help somebody, that means that relationship always has to be in that way, where you're in need, in order for them to feel good.
"I don't feel good. This stuff is painful because I have to live it every day. It is painful when my wife, and my children, and my grandchildren, and their friends have to deal with this on a daily basis."
Lanci blasted Jackson for the Cleveland schools' F on the latest state report cards and declared Jackson's old transformation plan and new school reforms failures. He also attacked Jackson for championing the school levy last year.
"Putting $70 million into the system, from people who could least afford it, is not going to get results," Lanci said. "We have to mentor our children, and provide the leadership students don't get in their homes."
Lanci may have a point -- his idea of an enormous city-wide mentoring program reminds me of all-encompassing efforts, such as
Promise Neighborhoods
and the Harlem Children's Zone, to improve kids' academic achievement by improving the rest of their lives. But mentoring programs are paternalistic by definition, and Jackson pounced on that.
"It's amazing -- children are the problems in school," Jackson said. "Mothers being unmarried are the problems. It's condescending and disrespectful, and it has a tone of disdain. You cannot serve those you disdain."
Lanci tried to recover. "It's disrespectful for the people of Cleveland to live with a failed school system," he said.
But he struggled with a question from an audience member who noted that some have praised Jackson's school plan as a national model. Lanci answered by quoting a teacher's complaints about 100-degree classrooms in a heat wave and district staff jobs with jargony titles.
On crime and cops, the debate turned, as usual this year, on state attorney general Mike DeWine's contention that last November's 60-car police chase and fatal shooting was the result of a "systemic failure" in the police department. Moderator Rick Jackson brought up the quote, noted that Lanci got the police union's endorsement, and asked him where he stood on the November incident.
Lanci repeated his campaign pledge that he'd fire safety director Martin Flask and police chief Michael McGrath. Then he went further, promising to let the police union pick the top candidates for chief for him to choose from. It was an attempt to blame the uncontrolled chase on the department's leaders, not the officers who violated policy by joining the chase, and Jackson jumped on it.
"When [the police] union president [was] asked whether their opposition to the chief was because he was holding them accountable, he said absolutely so, that's the only reason he wants him fired," Jackson asserted.
"The systemic failure was not with the Cleveland police division," Jackson argued, then turned to an attack on DeWine. "The systemic failure was with the attorney general's office, denying due process and civil rights to the two victims. I've never heard you [Lanci] or the police union mention the two victims who were denied their due process and civil rights. And as a result of that, those officers are denied due process, because there's no way in which even they can have a fair criminal hearing in regard to this, because it wasn't done properly."
The candidates' arguments showed how Cleveland can't move past a simplistic either-or debate about the November chase and shooting. One side blames the leadership, one side the officers. No one ever holds both accountable.
The debate revealed more of Lanci's platform: He said he wouldn't continue the mayor's attempt to develop the lakefront, that Cleveland has more urgent problems that trump building hotels. Instead, he said he'd focus on bringing container shipping, ferries, and lake cruise ships to the port.
In the debate's weirdest moment, an audience member asked if Lanci had really told the teachers' union in a questionnaire that he would have the Hell's Angels and Zulu motorcycle clubs mentor seventh graders.
Lanci said he wants to bring back Golden Gloves boxing city-wide, so sons of single mothers have male mentors.
"I've asked some of the motorcycle clubs to sponsor teams, to be able to help mentor these kids, to give them something to belong to other than a gangbanger. We have to stop them from feeding that system. Even the motorcycle clubs are afraid of them. Because they don't want to kill anybody. They know the consequences. The gangbangers don't know."
In his closing argument, Lanci promised an end to "broken promises and platitudes." He slammed the mayor for his failed attempts to build a gasification plant and use a street-lighting contract to attract a lighting factory to town.
Then came Jackson's brutal close, in which he painted Lanci as a do-gooder running to feel good. "I don't go to a place of tragedy with hot dogs and hamburgers, to be disrespectful and condescending to that tragedy," he said. The mayor's campaign aide, Chris Nance, says he was talking about
Lanci's appearance on Imperial Avenue
, site of Anthony Sowell's 11 murders, earlier this year.
As Jackson finished, supporters of his, sitting near me, rejoiced gleefully. "This case is closed," one said.